Just Wanted to Say ...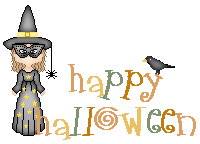 May you all be safe . . . May you all have fun . . . May your children share at least one piece of candy with you (and if they don't, just steal it after they go to bed!)

P.S. I know I'm like a broken record with this thing, and I'm falling well behind in the voting, but it ain't over 'til it's over!! If you get a chance, check out my entry over at the Philosophy Blog War and if you like it - VOTE FOR ME!!! Thanks!
Labels: children, chocolate, halloween, philosophy blog war